"Pursue the material and intellectual growth of all our employees; Deliver unparalleled service to our customers; and Increase corporate value and contribute to the betterment of society."
The top 79 seats is all about the above corporate mission as stated through its seat pitch and seating arrangements.
Business class suggest no need for a "First class" offering, as it will provide: 1.88 meter (74 inches) lay flat having a private compartment with a sliding privacy screen. It is a six seats across business space.
JAL Business Class 787-9
Premium Economy provides seven across 42" pitch ("snap" or cool) with 19.5 inch of seat width causing shins to heal on the flight from the prior premium premium economy flight going to and fro from Australia on a competitor airline. The 35 seats is more than adequate for long distance meeting the corporate goal:
"Deliver unparalleled service to our customers; and Increase corporate value and contribute to the betterment of society."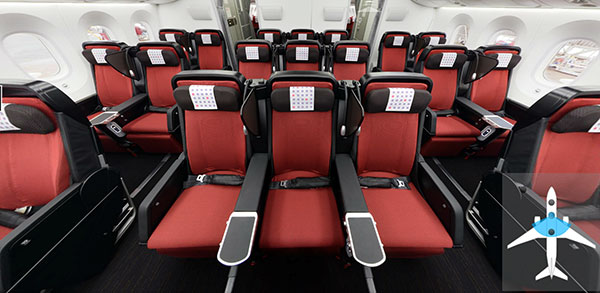 JAL Premium Economy 787-9
The dreaded economy environs is up next on JAL's 787-9 having 116 weight paying customers seated in a 19" W by 33" pitch. Shins are spared and seat reclined becomes appropriate for each seat's tail gunner. By-The Way, it's eight across gaining the extra width and space.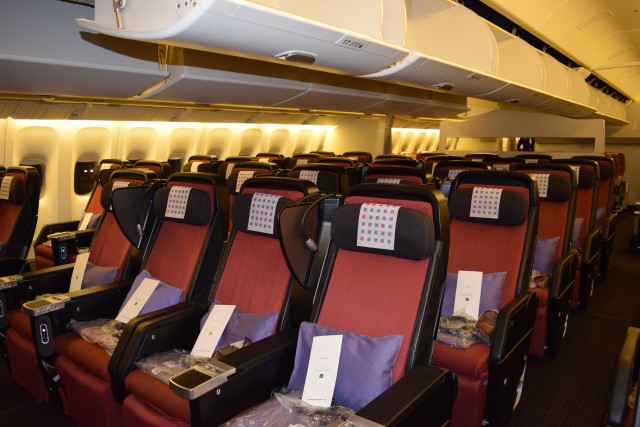 JAL Economy 787-9
JAL only has to work backwards with its math assigning the price as it starts with a profit derived from various sources of less fuel burn per mile from having less weight and having a money relation with added passenger space. In a Crammit-Up Airline they will have close to three hundred seats so costs penalties of weight are assigned on each ticket. Space becomes an option. If the Crammed airline sells ticket at a rate 50% cheaper than JAL's offering then a proportional pay per quality issue arises.
The "Crammit-Up Airline" sells an economy seat going to Japan for 1,000 dollars where JAL will go $400 higher at $1,400. Therefore, in this example, the JAL seat price ratio is set at 1.4 over the medium seat price of any cut rate ticket price found within any prescribed route. The .4 revenue increase for JAL per seat makes far more money than a crammed full airline charging prices close to a profit margin. Less weight gives more money to JAL going to the US or Europe. The economy airline has a passenger boat anchor with full loads and it must remain risk adverse only by finding 300 customers for each trip.
When going with fast foods or going to Ruth Chris Steak House there is a great quality variance between the two types of food purveyors. JAL hopes to exceed a Ruth Chris type experience from the above corporate mission culture and not seek Big Mac customers. There are enough customers out there for both types of airlines who prefer the cheap or going in style having long range space provided with its corporate style since it is trying "to contribute to the betterment of society".