Not often does the military stay on the side lines at airshows. However the US military industrial complex is not flexing its muscle at this years Paris Airshow. No KC-46 tanker, no F-35 and it doesn't appear that Stars Wars will even show an epic movie, "The attack of The Drones". If the Bath works could only float a ship up the Seine to the Left bank. The US military would be represented. Even EADS had a tragic blooper directly before this year's show. Its A-400 military transport crashed last week in Spain killing most of its flight crew. The troubled program has lost the excitement over its military offering just prior to another delivery, the Turkish military .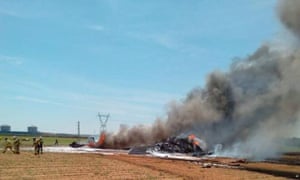 An Airbus A400M military transport plane crashed in Seville while performing a test flight, killing four crew members. Photograph: Spanish police handout/EPA
"Airbus Defense and Space said that of a total crew of six, four were killed and two were in hospital in a serious condition. All the crew members were company employees and of Spanish nationality. A spokesman said: "Our thoughts are with the families and friends of those affected by this tragic accident and we are providing all our care and support."
The plane was expected to be the third aircraft to be delivered to a Turkish customer, and formal delivery was scheduled for next month.
The A400M is a large, propeller-driven transport aircraft that is being assembled in Seville. Some 194 have been ordered by eight countries, including Spain, seeking a replacement to its ageing Hercules fleet."
It saddens me to see these kind of photos. An airplane several years back crash near my home and it looked just like this photo. I never loose sight that flying is not taken for granted. The U.S.Osprey program had its gloomy days and now its seems to be a fine aircraft after cleaning up its weaknesses.
The military pushes the envelope with its inventions and perhaps an airshow is not the appropriate place to demonstrate its inventive might. Static displays are best served with long lines and a brochure table.
Orders are the big thing at the airshow. As mentioned earlier within the context of a prior blog, I can only hope a few surprises are up some body's sleeve for order announcement, others wise it will be better not to fight Paris traffic, but just sit on the left bank eating crepes and waiting for the DDG-1000 to come up the Seine river.