The State OF Washington is finding ways to keep Boeing in its state. One way to do this is to not keep Boeing in this State, but enlist a neighbor to aide it as a partner in this endeavor. There is a place with miles of open country near a population base of technology, homing 600,000 persons supporting an expanding economy. No ocean to confine expansion. Not only does it have an exclusive cheap electrical base with its Snake river dams, but it has a strong military presence in this treasured valley. Apply the name Mountain Home, AFB, here (60 miles south east). Its Just south and east of another Military Air base residing in the metropolitan area, and Commercial Airport as Gowen Field. On the edge side of Gowen pulses the commercial airport, making it a duopoly of separate military and commercial operation is Boise, Idaho. Boise has a technology infrastructure for its new computer technology developers with Micron and Hewlett Packard. Multiples of electronic start-ups dot the valley. Boeing should consider Boise as an extended shop for the 777X instead of Charleston, SC. Its only 50 flight minutes from Puget Sound, a test flight lap away. I challenge Boeing to come up with a better ready made spot in the US.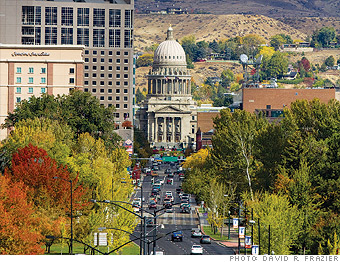 Cheap and plentiful land
Cheap and plentiful Power
An Unbounded (Non Union) Labor pool
A 360 degree Airspace
Urban University for Urban Industry
A Jetway To The North West
Rail connections
Available Industrial Parking Space For The Supplier Chain
I know Boeing has looked at Boise for something, but have they looked at Boise as a North West Annex, maintaining continuity for aircraft development and production with nearby Everett? Or have they considered Boise as a fair weather port in a continuous flow of production , nearer rather than farther from Paine field. All first flight 787's could go to Boise on an initial test run for a park and fly, conducting production testing in Boise. A final flight back to Paine with the customers in its control, landing at Paine Field for the delivery center. Better weather and clear days most of the year. Expanding the Northwest Boeing operation in the Northwest would enable Boeing to expand the 777X development in the Puget Sound area more effectively. Sending it to Charleston is more complicated and expensive. The 50 minute flight to Boise is quick and dirty for moving personnel back and forth to a Boeing Campus located in Boise, ID. Its just a commuter hop expanding the Paine footprint farther South East. People stationed in Boise would benefit from multi outdoor amenities from white water, skiing and wilderness. Boise has an excellent inland fishery. You drive off a north end street in Boise and go right up to the ski area. Boise metro area will grow to one million in ten years.
Boise has not had a hurricane, twister or earthquake of note yet. The shut down risk from natural disasters is statistically mitigated. Boise could do a lot for Boeing as well as Boeing doing a lot for Boise. In this scenario Boise could save the Puget Sound Region of having the corner stone operations ripped out of the area, as Boise would supplant any Puget sound space constraints, by annexing a Boise center. Boeing would gain the flexibility it requires when expanding manufacturing in this area. A Charleston effort stretches the workforce and materials line thin in some cases, even though Charleston does production of plastic components for the barrel and surfaces at the facilities. Boise could build additional capacity for the western region as has Boeing expanded some supplier manufacturing in Helena, MT for the 787-10. My admonition is: "be careful where you put all your eggs", One massive storm could cause havoc back east. Supplemental production possibilities in Boise diversifies that risk as a sound lower cost answer, that does not interrupt Boeing's continuity as what Charleston, SC has already accomplished, with its low production numbers so far away from the NW.
Gowen Field Is Boise's airport military twin side of operations
A-10 Warthog Wing is in.
More airstrip space for up to 13000, feet exist adjacent To Boise Airport.
Micron Technology Chip Maker Eastern end of Airport Flight Path in Boise, ID
Hewlett Packard Campus Printer Division
Boise State University, Urban and Technological Flavored University
Boeing, ADA county has a parking space for you and you could add your Picture to this portfolio..