The rule of industry is that: every newly appointed CEO has been given a notice of their own future job loss. Once accepting a position as the company's head mentor, the CEO has only five to seven years for feathering its nest before getting out. A CEO must return the company in better condition than when assigned their final position. Boeing's CEO is now leaving at age 65 this next July of 2015. He has made it through the industry gauntlet through keeping faith in Boeing's ability. He has made change when identified, and stayed the course out of his faith with his top to bottom vision. When McNerney starts looking from the top, he will expect to see the CEO's will on the production floor, or at the recent Paris Air Show, and from the gleam coming out of customer's eyes when taking delivery of a Boeing product from its various plants. That is a snapshot of Jim McNerney's Boeing life cycle coming to an end.
Photo Credit Fitsnews via Alencontre.org-(A Marxist Rag quoting about McNerney "makes more than he pays in Taxes", Duh!)
"The heart will still be beating, the employees will still be cowering, I'll be working hard," McNerney said, according to
Bloomberg News
. "There's no end in sight. We're continuing to build a succession plan and alternatives to succeed me eventually, but there's no discussion of it yet."
McNerney's tenure was not without some mishap or having to backtrack the processes a few times. Boeing's want of a better way and better results superseded any CEO decision-making. McNerney played the hand dealt him within the constraints coming from all elements found in the World's largest airplane maker's realm. McNerney survived as did Boeing. Sometimes survival is having a victory over its main competitor. The battle will not cease for Boeing, and today the Next CEO is up. Congratulations Jim, Your picture will hang prominently in the Boeing Castle. Staying on top for ten years is a wow factor in any industry.
The next CEO up was notified of his last job is starting soon.
Bloomberg Business:
"Boeing Co.'s Dennis Muilenburg becomes chief executive officer next week with a to-do list of decisions that could reshape the world's largest plane maker."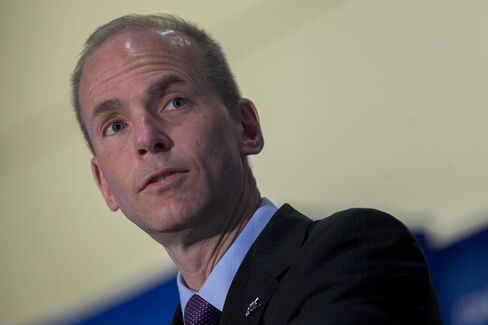 The 51 year old wants to leave Boeing in better shape than he finds it today. Boeing regained its title as the world's largest aircraft framer after Boeing lost that distinction about five to Seven years back. It has become the World's largest once more, and it represents superior production quantity and superior marketing results. Airbus is seriously challenging Boeing's market arm during the last three years in the single aisle division. However, the wide body division has greater dollar value in sales than Airbus' own single aisle transactions.Wide bodies have made Boeing the king of manufacturing at multiple levels of its production and its over-all cash inflows are recognized as its strength.
Muilenberg, is tasking Boeing's hot button issues first, as he begins riding the aviation Bull. Sikorsky is one of his first plays of involvement in a take-over consideration.
His short list of questions, which is made up from pressing the issue button, that must be accomplished by Boeing in his first five years.
1. Is the continuity of going from 777-300-ER up to 777X, set?
2. Is a 757 replacement necessary for Boeing even just for the sake of aircraft family completeness?
3. What to do with the 747-800 program and where does Boeing Go Next!?
4. How much military does Boeing want to involve itself in?
5. If I'm a done CEO before 2030, what will I have accomplished for the next team up?
The list of urgency is far longer than what this new CEO has previewed in private, as Dennis Muilenberg. The former CEO, McNerney, did his best, and now will have a distinguished role as a Boeing mentor to the new CEO for a couple of years. Boeing blossomed during this last decade, as a once again World's Largest event. Dennis must now take the company further with its established technology, and not rest on the millennial's coattails, or they will once again see the late 1990's again as Airbus attempts a surge over Boeing's production acumen.