LiftnDrag Blog has tried to develop a three month moving average indicator which measures the specific progress of the 787 program. It ignores how many 787's are punched threw the doors each month, it ignores post door testing and it ignores short term game stoppers because it gathers all that slack in a ninety day period and gives its customers a continuous rate flow of incoming Boeing Receipts.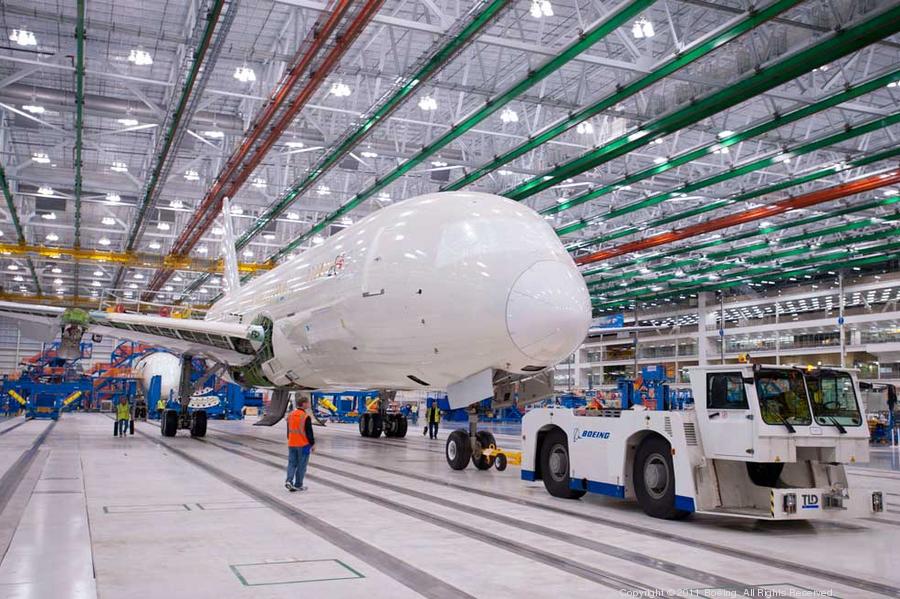 Charleston is about to move this Average forward.
Boeing has been climbing the indicator trail since the first of the year as it delivered four 787 in January. Another four in February. Hold on to that thought as you compare 2013 with a paltry 1 or closer to Zip as possible without panic. March of 2014 was 10, now it moves on to Eight in April. The 90 day average upward trends to 7.33 for 90 days. This is an investors delight as Boeing is now closer to its promised ten a month continuous delivery number. They mean to make and deliver 120 787's per year. That number will dip when the 787-9 is infused in, during its first six months of delivery. A second dip will occur when the 787-10 is in delivery mode.
If you adjusted for the 787-9 test planes which have logged over 1200 test hours Boeing would have had a one plane per month increase of the last 6 months and have bolstered the delivery moving average by an additional 1 copy for each average taken. It would be fair to say that the 787-8 was on pace for April's moving average at 8.5 if Boeing resources were solely 787-8 and no 787-9 interruptions.
However, the reality is that Boeing will be producing all three models at the same time and it geared its factory(s) for that event this last quarter. Charleston, for the first time, is putting it together. The initial thrust with its first Dreamliners was a forming stage of productivity following its storming stage of just making 787's. I look to see the Charleston's Plane Making, step up and preform just like Everett,Wa. It's a matter of a short time that this all comes to fruition. The 90 Day Moving Average of delivery will validate this bold claim. Starting June 1, 2014 until June 1, 2015 will see close to 120 787's a month no mater the number of plugs installed on the base frame. The total number for 787's may fall short of its 110 unit goal at the delivery gate in 2014. Investors should adjust their expectation closer to 100, which in itself is a remarkable number for the 787. The out take on this production goal is that Boeing does not want to lay up short in Airplane Wars. It needs and wants 10 a month for the duration going to customers around the world. Airbus may not reach 100 a year A350's for another three years. In that time Boeing hopes to flood the market with the 787 as the standard, making the A350 just an alternative and nothing more. Airbus will have its moments, but may never achieve a pinnacle status like the 787 will with its family of aircraft.
The 90 day moving average is a simple attempt at a snap shop view for delivery, and if Boeing is reaching its stated goals. Ninety days absorbs many million parts, mishaps and changes on the production floor, as it introduces new processes within its family of aircraft. Ten a month to the customers is the goal, never mind the messiness behind the production flow, those 10 a month is all that matters coming out perfect every three delivery days.