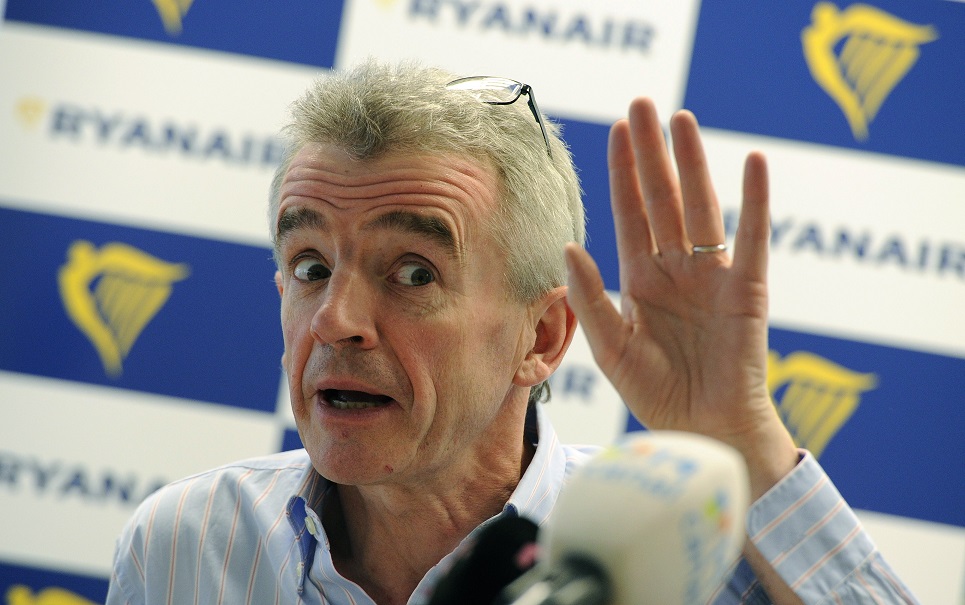 Michael O'Leary Dips into Darby O'Gill's Pot O' Gold IBT Photo Credit
(Getty)
To the tune of:
"
Ryanair has reported an end-of-year net profit of €867m (£613m, $944m) after carrying 90.6 million passengers in the 12 months to March."
A steady delivery cycle of 183 737 NG's are heading his way since it began last year in 2014. Then comes the 737 Max 200 in 2017, or is it 200 Max 737's. I lost my own mind in his quest for Darby O' Gill's Pot O' Gold . 2023 is the year the deed is done.
Why am I am clicking my heals? Because
IBT
says its so, that's why!
66% profit increase, yowser!
Rumor has it Michael has invented a better way to pack sardines into a can too! He is unstoppable with his ideas relating to product packaging.

O'Leary for Airline President! Oh, excuse me he is already one to boot. The Max should deliver on March 17th on any year past 2017. I have plans for that day every year, until the cows come home, and doesn't include staying home. It may include a trip to Ireland for cabbage and corn beef until the c... well you know the tag line. Michael O'Leary can you spare me two airline tickets from Boise, Idaho. Call me crazy, but I was always told... to politely ask the question anyways, so I asked, so sue me. I asked my wife a question once, and it changed my life permanently. I am not Irish, just a hung over Scotsman at the belt line, who likes corn beef and cabbage with a little Irish music.