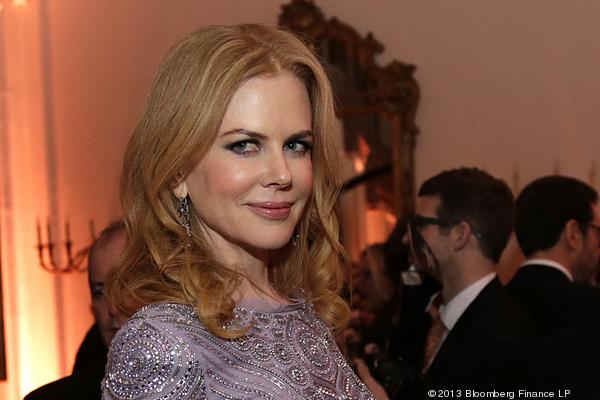 Nicole Kidman is being criticized by American Airlines flight attendants for being a spokeswoman for Etihad Airways.
Nicole Kidman was enlisted by Etihad as the face of its airlines. Flight Attendants in Fort Worth/ Dallas- American Airlines, naturally would protest, as it has its own flight to Dubai, and says Etihad wants open skies, as in "Eyes Wide Shut Kidman". She just looks so good saying so for Etihad. American Airlines disagrees with the concept of open skies, and its flight attendants are in a hissy stand-by flight status over the whole Kidman look.
THEY'RE NOT PLEASED WITH ACTRESS'S ETIHAD AIRWAYS AD CAMPAIGN
Posted Apr 3, 2015 9:20 AM CDT
(NEWSER)
– Nicole Kidman is a UN Women Goodwill Ambassador ... and yet she also appears in ads for Etihad Airways, a United Arab Emirates-based company that has been accused of treating its female employees badly. A US flight attendants' union has taken issue with that, the
Guardian
reports, writing an open letter to Kidman explaining that Etihad and other UAE airlines "are well-known in our industry for their discriminatory labor practices and deplorable treatment of female employees" and noting that the airline's alleged behavior doesn't exactly jibe with Kidman's statement last month, on International Women's Day, that "I envisage a world where all women and girls have equal opportunities and rights."
Specifically, the union says, "the
Wall Street Journal
has publicly reported [Etihad] 'may fire women if they become pregnant' and forces flight attendants to live in 'confinement' in secure compounds" (see that December article by the
Journal
here
). Etihad swung back at the allegations in a statement that specifically refutes the pregnancy discrimination claim. The Association of Professional Flight Attendants represents 25,000 American flight attendants who work for American Airlines and US Airways, and its letter is supported by Americans for Fair Skies, a lobbying group that backs other US carriers that are unhappy with UAE carriers. The group put out a statement calling for Kidman to end her "puzzling and unsettling" relationship with Etihad, the
Dallas Morning News
reports.
Source News.com.au:
A white paper commissioned by US carriers claimed that since 2004, Etihad has received as much as $22 billion in government subsidies and interest free loans.
The 55-page document titled "Restoring Open Skies" said along with other Gulf carriers Emirates and Qatar Airways, Etihad had been able to rapidly expand its fleet and international routes "seriously distorting the commercial marketplace and diverting global traffic to their hubs".
It singled out Etihad as "unlikely to be in existence" without government subsidies and guarantees.
The airline has acknowledged receiving equity investment and shareholder loans supplemented by $US10.5 billion in loans from international financial institutions.
But addressing the annual Aviation Summit in Washington this week, Hogan hit out at the US airlines behind the white paper, and painted Etihad as the victim of jealous bullies.
------------------------------------------------------
I call all this commotion, "the Kidman Affect" on Dreamliners, I'll book a ticket with Etihad, if Nicole tells me personally to do it. It's as simple as that!