Boeing Everett and Boeing Renton are going to the well with its new planes. The 777X and The Max respectively. At the North End of the "Boeing Triangle", is Everett's new under construction buildings for the 777X. The intent is for plastic wing making not unlike the 787 wings made in Japan. Everett must reinvent the 777 in a duopoly building scheme for both the 777 300ER and the 777X projects. It has started by making a satellite building around the 777's ground zero for significant structures assembly, with wings that will attach to the assembled 777X, namely, its complex lifting surfaces made of plastic. Metal large parts constructs can come from Spirit systems by train. Other supplying contractors will feed the beast as specialized parts are built from around the world and shipped to Everett. Including Japan's aviation making submissions.
Puget Journal Biz Journal Photo
Rendering of One Million Sq Ft. Everett Wing plant for the the 777X Below: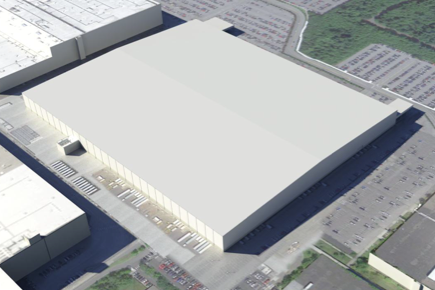 Puget Sound Business Journal Photo
At the southern tip of "Boeing's Triangle", is Renton, and the MAX. Rather than building expansion's for the MAX they are re-configuring the production floor. They will slot in the 737 Max at its first station inside its current production space. An area it has made available for its first and initial assembly area where it can continue forward, and slide in through insertion to the full production line. The initial aircraft will probably reach completion in that Initial area until mastery of the new Max is achieved. After which a continuous stream will develop for delivery aircraft, once test aircraft are completed, flying and certified by aviation's governing bodies.
Below is the southern tip of "Boeing's Triangle", the Renton, WA Facility and Air Strip.
737 "Max Spot" floor clearing for first construction of the Max aircraft. Note the NG line adjacent to the "Spot" with a fully formed green bodied 737. I anticipate the Max could slide in behind the NG's from this location when Boeing ramps up its delivery production units from the "spot" as soon as testing is complete and approved by aviation authorities.
Boeing Photo From Randy's Journal
The final point of "Boeing's Triangle" is at the apex found at Boeing Field where all new types land and strut its stuff. Both the 777X and the Max will debut at Boeing Field when inaugurated with a first Landing as the 787 completed its debut.