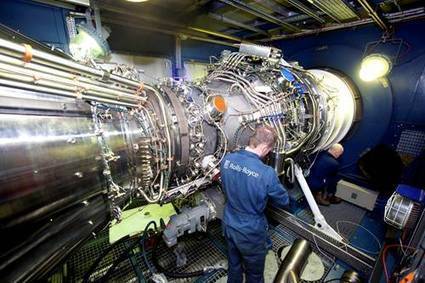 Pictured above is one of two Rolls Royce gas turbines in preparation to "Light Off", a term used by the Navy when activating it for the first time with its turbine power on the DDG 1000 destroyer. The twin turbines plus twin auxiliary motors could produce enough electricity for 10,000 homes. It will do more than this with it on board. 30+ NM/Hr speed, a potential-Rail Gun, Radar/Sonar, Computers and shipboard electric razors.
Similar to The All Electric 787 systems, in that a Jet engine powers its systems. All Electrical 787 actuators, move flight surfaces and any other electric/electronic dependent systems.
The DDG 1000 has twin screws powered by the latest in electrical motors. Diesel/Electric pairings have been with the railroad for almost a century. Those technology advances refined and advanced are passed on to this class of destroyer.
Press Quotes below from:
"Neil Pickard, Rolls-Royce, Program Executive said: "On behalf of the entire DDG 1000 program team, I am very pleased to confirm the successful light-off of the first Rolls-Royce MT30 main turbine generator set this week. The accomplishment of this important milestone is significant as it enables us to progress with more comprehensive and self-sufficient testing of the ship's Integrated Power System (IPS) over the weeks and months ahead."
The IPS on the DDG 1000 generates all the electrical power required for main propulsion, combat systems, sensors and weapons systems."
"Onboard the Zumwalt are two Rolls-Royce MT30 Main Turbine Generator Sets (MTGs) and two RR4500 Auxiliary Turbine Generator Sets (ATGs) that will provide a total of 78 MW for total ship power - the MTGs provide 35.4 MW each and the ATGs 3.8 MW each.
The MT30 is the most power dense marine gas turbine in the world, selected to power the most modern and advanced vessels in the US Navy, including the Freedom Class Littoral Combat Ship, as well as the Royal Navy's Queen Elizabeth Class aircraft carriers, the innovative Type 26 Global Combat Ship, and the Republic of Korea Navy's FFX Batch II frigate."
------------------------------------------------------------------------
Below is a comparison from the older DDG 51 going to to the new DDG 1000.
------------------------------------------------------------------------